Virtual, Online, and Phone AA & NA Meetings
Affect provides professional addiction treatment to support people in twelve-step recovery programs
Twelve-step meetings online give you a recovery community, Affect puts a licensed addiction treatment program in your pocket. It's an unbeatable combination for beating addictions to alcohol and drugs, and you don't have to go to a clinic or a meeting. It all comes right to you.
Alcoholics Anonymous is the original twelve-step recovery program. Since it was started in the 1930s, AA's peer-support model has helped countless people stop drinking. It's free to attend and meetings can be found at all times, all over the country. If you're looking for an AA meeting near you, you can find one here. But many people prefer to attend meetings online because it fits their life better. We've compiled a list of virtual meetings that are all just a click away.
But if you're looking for more robust support in recovery, you can find that with us. Affect's app-based treatment program is a perfect companion to twelve-step programs. You get an outpatient treatment program right in your pocket.
Get Licensed Addiction Treatment for Alcohol and Drugs Through a Smartphone App
Many people who got to free twelve-step programs are also in outpatient treatment programs. People in AA and NA can struggle with relapses and need more support from trained counselors and medical professionals who are experienced experts in substance use disorder treatment.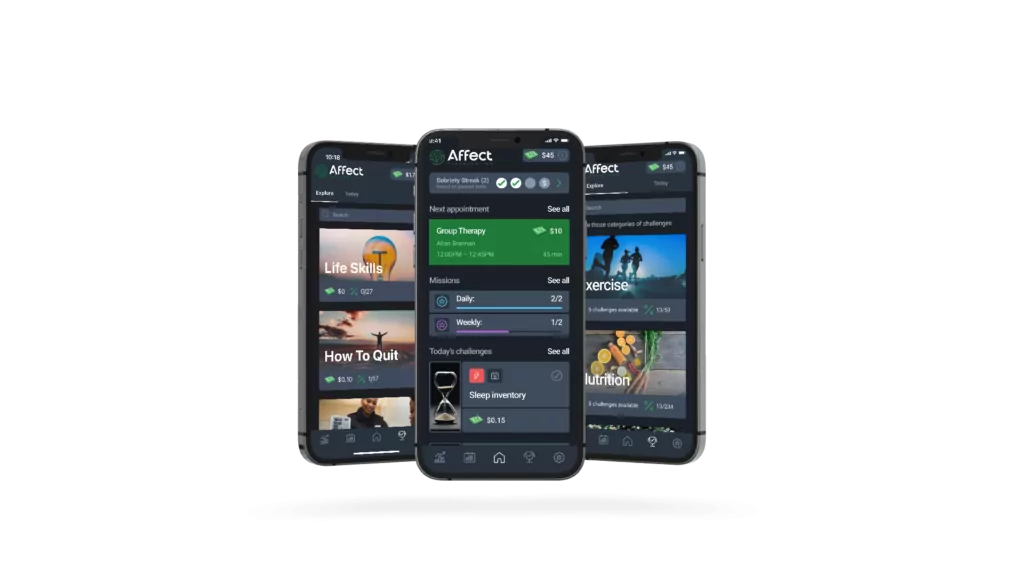 It also helps to have medical support with medications to manage cravings and ease discomfort from anxiety, depression, or other effects in early sobriety. The program is covered by Medicaid and many health insurance plans are accepted. And, it works twice as well as traditional treatment programs at alcohol and drug rehab clinics.
Professional treatment also helps people who are deeper into their step work and getting into the reasons behind their drinking. A licensed and experienced counselor who specializes in addiction not only helps people stop drinking, they also know how to sustain recovery as people uncover their issues and need to resolve them.
The great thing about Affect is you get group and individual therapy and all the services of a rehab clinic through your phone. If you like virtual twelve-step meetings, Affect's telehealth addiction program is going to be a great fit for you.
Virtual Twelve-Step Meetings
A virtual Alcoholics Anonymous or Narcotics Anonymous meeting can be a lifesaver when you're struggling or feeling low, whether you're working a treatment program to get sober or managing your sobriety. There are many online AA and NA meetings from both local and national groups at all times of the day. There are also call-in phone meetings for those who can't get onto a webcast. And, if you're not comfortable with AA or NA, there are other programs like SMART Recovery online.

These virtual meetings are great options when you can't get to an in-person AA or NA meeting near you, or there isn't one available. You may be in between your regular individual or group therapy in your addiction treatment program, or away from home and can't get to your usual support group. You don't have to be in Alcoholics Anonymous or Narcotics Anonymous to attend one of their meetings, they're open to anyone.
Get the extra support you need any time you need it
An online AA or NA meeting can also be a great way to manage your recovery journey when triggers and stresses come up. If you're in a group of people or with family for some occasion or holiday, you can just excuse yourself for a bit and find a quiet place to listen on your headphones discreetly to get a quick pick-me-up. Or you may be feeling alone and some community will help you feel connected and grounded.

It's always good to listen to other people who are working their journeys, dealing with challenges, and finding gratitude to keep going. Like any AA or NA meeting, you don't have to share in a virtual one. But, sometimes it helps just to say the words, "I'm an addict," in a safe space of people who know what you're going through.

The AA and NA community have a saying, "There's no such thing as a bad meeting." It's really difficult to pick up and use after attending one and being reminded of why you're on this recovery journey – and hearing that it really does work.
Virtual recovery resources at your fingertips
Check out our list below with resources for virtual AA and NA meetings from local, national, and even international groups. Some virtual meetings are open 24/7 so you can join any time. Some are specific to groups like women and LGBTQ+.
Find a Virtual SMART Recovery Meeting
Find a Virtual Alcoholics Anonymous Meeting
Find a Virtual Narcotics Anonymous Meeting
Find a Virtual Al-Anon or Family Support Meeting
Find In-Person AA and NA Meetings
If You Need More Help, Affect Provides Care that Comes to You
If you're working in AA or NA and struggling with remaining sober, our digital treatment program provides the extra support you need. Many people in 12-step programs are also in treatment to get that deeper level of support from licensed professionals. Whether you're on your first step or if you're working on deeper issues you've uncovered in your step work, expert and experienced treatment can make all the difference in your recovery journey.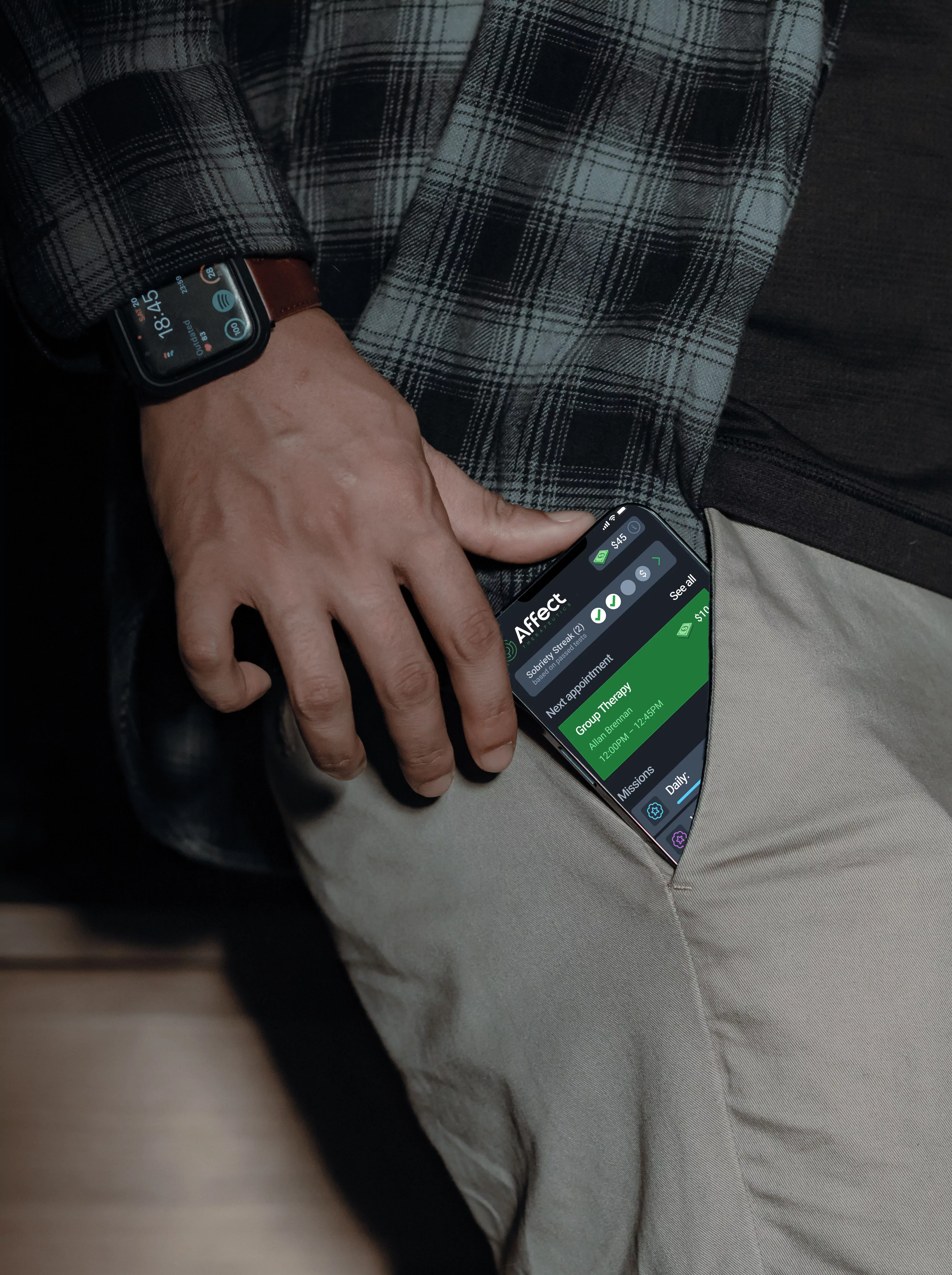 A private treatment program in your pocket
"Affect has shown me a caring side that I never had for myself. It has made me rise as an individual and I have uplifted my courage, bravery, and willpower to obtain my sobriety. Not only did I find myself, but I also found friends in counseling. By friends, I mean someone who really believes in you when others won't. This program is amazing and works."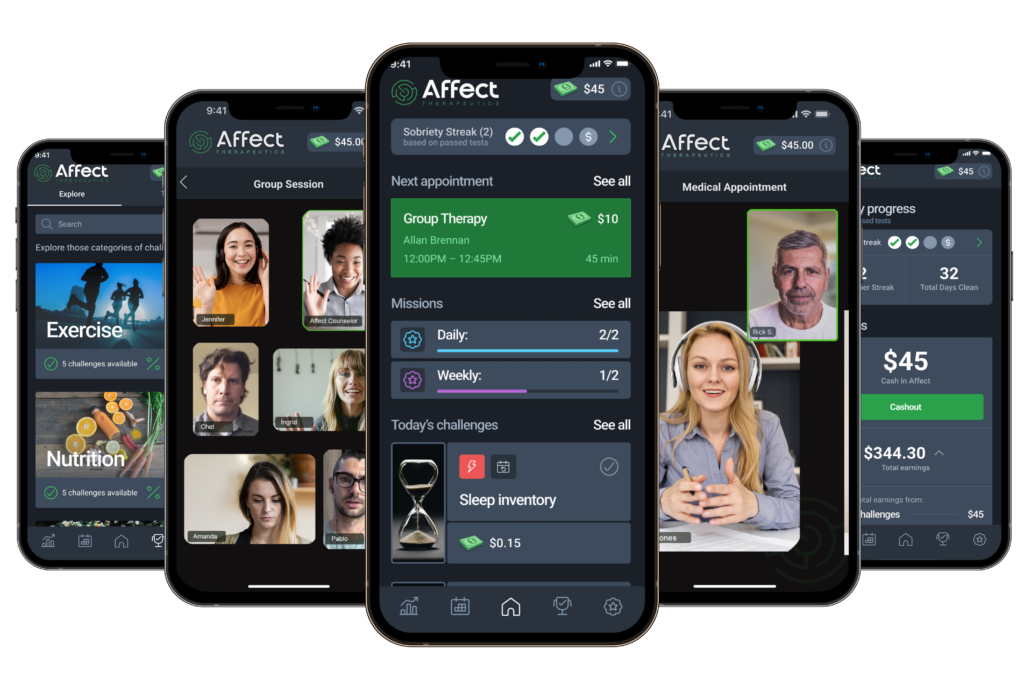 Based on science that rewards healthy choices
Our program offers almost $600 in incentives as you succeed in treatment (known as "contingency management") to help reward healthy activities and encourage new habits.
We also deliver group and individual therapy and medications to help manage your cravings. Together, these treatments have consistently shown better recovery outcomes than any other.
Entirely private, fully digital, and always available
All of your appointments are conducted over secure video conference, so you can choose where you'd like to be. No traveling to a rehab clinic or sitting on a folding chair in a basketball gym.
Our smartphone app provides direct access to your calendar, daily tasks, progress tracking, and care team. Whenever you need us, we're with you.
Support both inside and outside of treatment
Need help finding a new job, a better place to live, a doctor, a way to lower your bills? We've got you.
Getting sober isn't just about quitting. It's also about changing your life for the better, forever. Your care team will work with you to make improvements that can sustain your recovery and give you a life you're proud of.
Just tell us a little about yourself and we'll reach back to help you through the next steps
Affect Member Reviews
You understood me and made sure I was safe in the midst of all my experiences.
I love my coach. He's a licensed professional, not just another former addict.
This program is actually useful. My DUI program takes an hour just to do roll call.
This program changed my life. I now have goals. Before I had nothing.